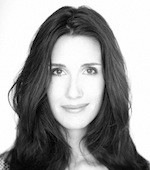 Molly Malcolm
+34 655 344 630
tipo de voz / acento: mujer / n. americana neutra
origen: USA
rango de voz: medio-alto / alto
especialidad: interpretación / voz en off
Antes de venir a Barcelona, Molly estudió y protagonizó varias producciones de teatro en Seattle, Milwaukee y Off-Broadway en Nueva York. Desde 1999 trabaja en Barcelona como locutora profesional, doblando dibujos animados, largometrajes, y ha puesto su voz a numerosas campañas de publicidad y vídeos corporativos. Molly combina su trabajo como locutora con cine y televisión.
Publicidad / Corporativos
S by Shakira Eau Florale, L'Oreal Paris Academy, Prada, Bacardi, Nina Ricci...
Series de Animación
Martha in Perfect Teeth, Madam Gen and various in 240 the Clone Kid, Sweesters, Asha...
Animación & Largometrajes
The Lightbulb Conspiracy- Narrator, I Want to Be a Soldier, Diary of a Nymphomaniac, REC, Los Borgia...