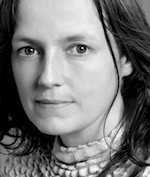 Rebecca Simpson
+34 675 109 063
tipo de voz / acento: mujer / Británica
origen: Inglaterra, Reino Unido
rango de voz: medio-alto / alto
especialidad: interpretación / voz en off
Rebecca Simpson ha trabajado en muchos de los principales estudios de Barcelona. Su trabajo incluye documentales, cine, anuncios, video corporativo y material educativo. Está dotada de un fino oído y de una gran voz para una amplia paleta de tonos, desde el enérgico y el neutro hasta las más sutiles inflexiones emocionales. Es actríz, escritora y traductora.
Documental / Narración
Spies on the Sands (Dacsa Produccions), Sense ficció (TV3).
Audioguías
Barcelona Maritime Museum, Casa Amatller, El Born.


Publicidad / Corporativos
Magic Box Int. TOYS, Damm, Abertis, Nike, Roche, Generalitat de Catalunya Turisme.

Doblaje / Trailers
The Fire Witness (HarperCollins Publishers), Keloid (Big Lazy Robot vfx).